Adam Kokesh Not Welcome at Ron Paul Rally
The following instructions regarding Adam Kokesh are contained in the packet of information for volunteers being trained to help at Ron Paul's Sun Dome Rally–expected to draw over 10,000. The event will be broadcasted live on CSPAN Sunday afternoon.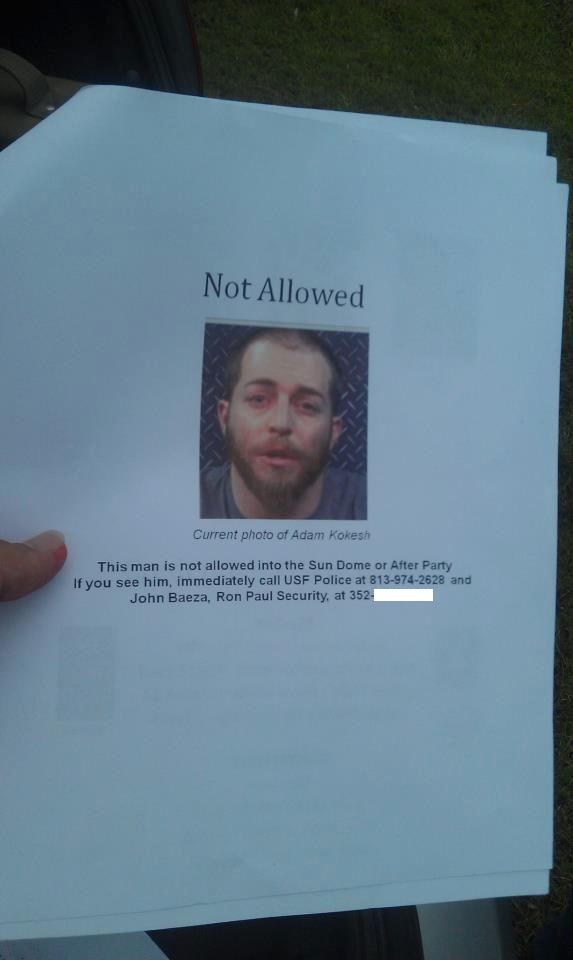 *If you see someone posting this photo w/ the security officials phone number, ask them to remove it. The last thing we want is Paul's security distracted by this.
Not a huge surprise to anyone who has followed the harsh words between Adam and some officials in the campaign over the last two years–and lists like this are par for the course when running a big event. However, the photo is obviously upsetting to many of Adam's loyal following. In fairness to the campaign, Adam does have a history of–shall we say–controversial actions and statements. (Video smoking DMT for 40 minutes & appearing to muse about assassinating Mitt Romney.)
[poll id="17″]
Be sure to bookmark our LIVE BLOG for the latest news this weekend and into the week from Tampa.