Snowden Liberty Live Blog | iroots.org
ALERT!
Just in- Snowden "will leave (the airport) in the next few days…some legal papers are still required," says Russian lawyer in Moscow

— CNNNortheastDesk (@CNNNEDesk) July 17, 2013
Details: http://www.cnn.com/2013/07/17/world/russia-snowden/
7/17/13 New interview with Greenwald: http://harpers.org/blog/2013/07/241527/
Did Edward Snowden reach out to you directly, out of the blue?
He emailed me back in December of last year, anonymously, and said something along the lines of "I and a few other people have some things that you'd be interested in. The problem is we can only communicate with you by encrypted email…
Hendrik Hertzberg said in The New Yorker that the threat to civil liberties these programs pose is "abstract, conjectural, unspecified." What, if any, are the tangible threats?
There's an important distinction between people who are extremely privileged and who believe in and obey pieties and orthodoxies — people like Hertzberg, who aren't dissenting from anything and who are basically defenders and supporters of political power, the royal court….So yeah, good little New Yorker writers who love Obama . . . you know, he's right. For him it is abstract and conjectural. But for people who are engaged in actual critical thinking and opposition to those in power, surveillance is menacing. It intimidates people out of engaging in real dissent. That's its principal danger…. 
7/12/13 9:15 a.m. EDWARD SNOWDEN IN LIVE PRESS CONF W/ HUMAN RIGHTS GROUPS…
Full audio: FIRST VIDEO EMERGES: LIVE BLOG: http://www.guardian.co.uk/world/2013/jul/12/edward-snowden-to-meet-amnesty-and-human-rights-watch-at-moscow-airport-live White House responds with disdain… Visit NBCNews.com for breaking news, world news, and news about the economy LIVE VIDEO:
Tweets from @irootsorg/snowden-live
Ellen Barry of the New York Times reports that Tanya Lokshina of Human Rights Watch, who is in the meeting, says Snowden has said he has received offers from Venezuela, Russia, Bolivia, Nicaragua, Ecuador. He thanks them. He says he accepts all offers, present and future. The offer from Venezuela has been made formally. He wants help in guaranteeing his safe passage to Latin America, she says. He will submit an asylum claim to Russia today, but he plans to go to Latin America eventually, she says.
Tanya Lokshina of Human Rights Watch sent that picture of Snowden, with Sarah Harrison of WikiLeaks on his right.
Snowden looks much the same as he did in his Guardian interviews from Hong Kong, dressed in a similar open-neck shirt, with stubble and glasses, although his hair is a little longer.
And here's Snowden…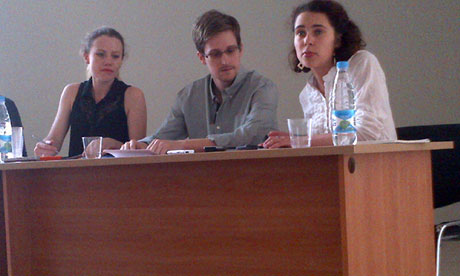 Follow the news of the day from various politicos, libertarians, anarchists, neocons, conservatives and a few thoughtful (if somewhat confused) liberals–in our live blog below. Well, okay, it isn't really a live blog. It's just a list we made on twitter, but I challenge you to find a better one! Remember, you can scroll through to see earlier tweets. You'll find extensive coverage of the NSA/Edward Snowden revelations.
#DEFCON hacker conference asks CIA, NSA, FBI, military, etc to stay away this Aug as attendees consider Snowden case http://t.co/a7hpe9UoOI

— Larry Greenemeier (@lggreenemeier) July 11, 2013
(Reuters) – The annual Def Con hacking convention has asked the U.S. federal government to stay away this year for the first time in its 21-year history, saying Edward Snowden's revelations have made some in the community uncomfortable about its presence.
REVEALED: how Microsoft handed the NSA access to encrypted messages http://t.co/Nf7zrqleqP — Glenn Greenwald (@ggreenwald) July 11, 2013
Skype joined PRISM in February 2011 – after being "served with a directive to comply signed by the attorney general." http://t.co/6rpTJIKYN7

— WikiLeaks Press (@wlpress) July 11, 2013
Latest Snowden Poll Results: 55% Say Whistleblower; 34% Say Traitor http://t.co/EMNsn2Zb0u

— zerohedge (@zerohedge) July 10, 2013
You'll always find this stream of news on the right side of our site. I'm just guessing that many of our visitors haven't noticed it. Bookmark this page if you enjoy it.
Infectious music of the day…
Jack Hunter's critics just got Dunked On! http://t.co/8JuPfGwOXL Read Judge Napolitano's response: http://t.co/7ewN6bpoM5

— iroots.org activism (@irootsorg) July 10, 2013