The media: On their way to ensuring Trump 2020
4/5/19 UPDATE: Yesterday, protesters on behalf of the #DeepState held rallies in major cities across the U.S. calling for the full release of the Mueller Report. This strikes me as the equivalent of Americans marching in support of finding those WMDs in Iraq—long after Dick Cheney admitted they 'made a mistake.' Don't miss the lyrics below:
Please watch. This is from the pro-Mueller rally today in Times Square promoted by Rachel Maddow, @MoveOn, and other liberal organizations https://t.co/yPNOYsnlEw

— Michael Tracey (@mtracey) April 5, 2019






April 4, 2019




Please turn in your hymnals...


Trump/Russia is not a political debate. It's a religion. Those who believed in this conspiracy theory thought it would be their savior - from the failings of a political system & party they refuse to accept or fix. Thus, these facts - nor any others - cannot shake their belief: https://t.co/ZGCAJo4ZZy

— Glenn Greenwald (@ggreenwald) April 4, 2019




(3/25/19) Only an hour ago, Professor Rachel Maddow, looking as if she'd been crying, stared into the camera alongside a graphic of fifteen verbose questions encapsulating her continued skepticism of the conclusions of the thus far released Mueller Report. Move over, Glenn Beck's chalkboard!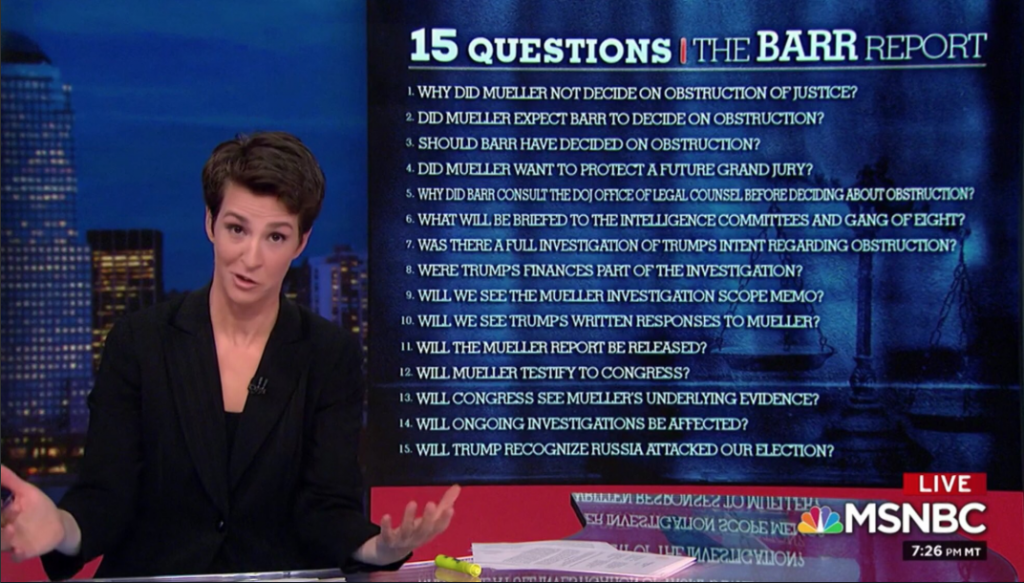 And so the delusion continues on the mainstream networks, but it didn't have to be this way. As we've pointed out, there is a feisty cadre of leftists who've been warning about the toxicity of the Russia narrative since even before Donald Trump was elected. However, the only major network that will allow them on is Fox. (Glenn Greenwald was on Fox's Tucker Carlson show tonight.)
BS. Why did we almost never here from people on the left who rejected the #Russia narrative? @aaronjmate @jeremyscahill @ggreenwald @mtaibbi @MaxBlumenthal @mtracey They didn't fall for this, why? Why were they not on CNN/MSNBC tonight? More: https://t.co/3h5xphSUBe

— iroots.org🔥🌐 (@irootsorg) March 26, 2019
If (a big IF) CNN and MSNBC (and the rest) want to begin the long journey towards recovering their reputations, they need to start having Aaron Maté, (Pulitzer Prize winner) Glenn Greenwald, Matt Taibbi, Max Blumenthal, Michael Tracey on as frequent guests. (I'll throw in the comedian Jimmy Dore as honorable mention.)
So far, the media is doubling down on their McCarthyism…
The following are posts from some of the above mentioned journalists.
My friends at @GrayzoneProject are one of the few outlets to get Russiagate right. @BenjaminNorton and I made a video w/ my initial thoughts on the collapse of the Trump-Russia conspiracy theory: https://t.co/QYig3BiwcN

— Aaron Maté (@aaronjmate) March 25, 2019






All of the legitimate questions about the state of American politics that should have been asked in the wake of the election were drowned out by the attention given to the Trump/Russia narrative, @ggreenwald said on today's @democracynow. https://t.co/dFtkelM7w0 pic.twitter.com/pfJwvpNsZB

— The Intercept (@theintercept) March 25, 2019




The full video from Democracy Now!


I know I'm a @ggreenwald fanboy but he just totally obliterates @DavidCayJ here along with the rest of the pathetic Trump/Russia fanatics, and it is so deeply satisfying https://t.co/fUurTtpLFq

— Michael Tracey (@mtracey) March 25, 2019





Glenn Greenwald Rips MSNBC to Tucker Carlson: They Fed People 'Total Disinformation' and Exploited Fears on Russia https://t.co/wIVj5wBPDv pic.twitter.com/IXqPABYDA2

— Mediaite (@Mediaite) March 26, 2019




Here's my appearance from earlier tonight on a @cgtnamerica panel about the Mueller finale: https://t.co/pVYh4w3oSY

— Aaron Maté (@aaronjmate) March 26, 2019




Let's look back at how we got here...