First Listen: Bob Dylan's Tempest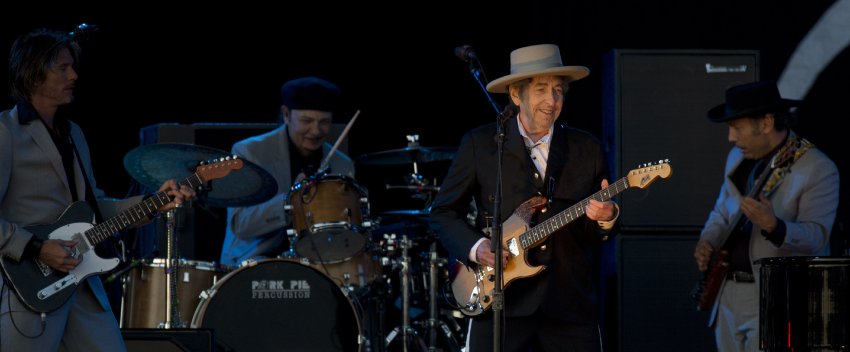 Welcome to the iroots.org Live Blog on Bob Dylan's "Tempest."
Today, is September 11th and Bob Dylan's 35th studio album has been released–50 years and 6 months after the release of his debut album, self titled, "Bob Dylan." It's difficult to think of another living artist who has made as wide of an impact as Dylan–and someone who is still churning out good work.
The songs on "Tempest" are written for that voice alone — one that can switch from memory to prophecy, from joke to threat, and from romance to carnage…
(NYT Review)
Let us know your thoughts. Remember, purchasing the album through the Amazon portal, above, helps to fund our blog–and doesn't cost you anything extra!
So, what are your thoughts? The last song nearly had me in tears..and I wasn't thinking about Lennon. And am I right that "Long and Wasted Years," sounded a bit like "Brownsville Girl?" (Knocked Out Loaded 1986)

Please share your thoughts in the comments…
9/17/12 Check out our new live post on Animal Collective's new album, Centipede Hz.
If you are a Dylan fan, you'll want to bookmark this article and check back–I'll be updating the page with new information as it becomes available. Scroll down for updates. Below, you can hear five tracks from the upcoming album…I'd like to give a big shout-out to Expecting Rain, mega Dylan fan site, for linking to us!
9/6/12: Just read a somewhat humorous minute by minute review of the title track (on the Titanic).
http://www.spin.com/articles/liveblogging-bob-dylans-endless-titanic-song-tempest
UPDATE 9/1/12: Three new tracks, Narrow Way, Pay In Blood and Scarlet Town have been leaked–seemingly purposely by Columbia Records, or it may have been a glitch in their test run of an upcoming preview…
8/31/12 – The debut of the music video ☞ Duquesne Whistle…(details)


Does Scarlet Town remind anyone else of Man in the Long Black Coat? I'm hoping we get more songs like this. If you haven't heard the "Oh Mercy" album, produced by Daniel Lanois, you should. I consider it the gateway into Dylan's later work.

[poll id="12″]
Hipster IQ: I have to thank my friend, Jody (leader of the Good Shepherd Band), for tipping me off to the notion that the "Early Roman Kings" may refer to a young hip-hop group from the South Bronx rather than ancient Rome.
If you don't know any of Dylan's post 1997 work, I recommend starting out by getting your hands on "Time Out of Mind" and "Love and Theft." Here's a sample of songs from 1997-2009 to prepare yourself for the release of "Tempest."
_____________________________________________________________________
(July 17, 2012) Rolling Stone is reporting that, "the title track is a 14-minute epic about the sinking of the Titanic, which actually refers to a scene from James Cameron's 1997 film Titanic."
(iroots.org) It will be interesting to see what inspiration Dylan will take from another classic song on the sinking of the Titanic, "God Moves on the Water." A song written in 1929 by Blind Willie Johnson at a time when even the most terrible of events could be seen as a kind of mercy from God–driving people to despair of their own abilities and surrender to a terrifying/loving/Father God for mercy.

Year of nineteen hundred and twelve, April the fourteenth day
Great Titanic struck an iceberg, people had to run and pray

God moves, moves, God moves, ah, and the people had to run and pray

So many had to leave their happy home, all that they possess
Lord Jesus, will you hear us now, help us in our distress

God moves, moves, God moves, ah, and the people had to run and pray
Can you imagine a song being sung like this right after the 9/11 attacks? And, yet, isn't that the closest analogy that our generation has to the sinking of the Titanic–and what it symbolized? Times have changed…
And, yes, the cover art looks like it was made with Microsoft Paint, but can Dylan really do any wrong?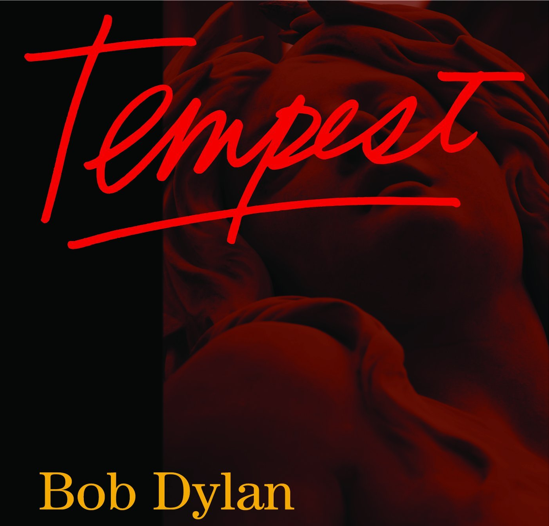 1. Duquesne Whistle
2. Soon After Midnight
3. Narrow Way
4. Long and Wasted Years
5. Pay In Blood
6. Scarlet Town
7. Early Roman Kings
8. Tin Angel
9. Tempest
10. Roll On John
The press release.
(Aug 1, 2012) Rolling Stone interviewed Dylan a few days ago.
The title track is a nearly 14-minute depiction of the Titanic disaster. Numerous folk and gospel songs gave accounts of the event, including the Carter Family's "The Titanic," which Dylan drew from. "I was just fooling with that one night," he says. "I liked that melody – I liked it a lot. 'Maybe I'm gonna appropriate this melody.' But where would I go with it?"
Elements of Dylan's vision of the Titanic are familiar – historical figures, the inescapable finality. But it's not all grounded in fact: The ship's decks are places of madness ("Brother rose up against brother. They fought and slaughtered each other"), and even Leonardo DiCaprio appears. ("Yeah, Leo," says Dylan. "I don't think the song would be the same without him. Or the movie.") "People are going to say, 'Well, it's not very truthful,' " says Dylan.
But a songwriter doesn't care about what's truthful. What he cares about is what should've happened, what could've happened. That's its own kind of truth. It's like people who read Shakespeare plays, but they never see a Shakespeare play. I think they just use his name.
Neil McCormick, one of the chosen few to have heard the new album, writes for the Telegraph:
"I'm searching for phrases to sing your praises," croons Bob Dylan on Soon After Midnight. It is fantastic to be able to report that popular music's greatest troubadour is still as brilliant and bewildering as ever.
Words spill out on his 35th album, Tempest, to be released by Columbia next month: one liners, couplets, random observations, overheard expressions, inverted slogans and non sequiturs, verses and images often set up in baffling opposition to one another. What sounds at first like a gentle country love song contains the admission "My heart is fearful / It's never cheerful / I've been down on the killing floor" and concludes with the threat to drag the corpse of somebody called Two Timing Tim "through the mud".
8/20/12 UPDATE: Here's a fascinating flashback. Critics discuss the release of "Time Out of Mind" in 1997. This album marks the reemergence of Bob Dylan's career.

9/1/12 Last night, the BBC aired a short segment on "Tempest." Great reviews this time.
Just saw the BBC Review Show feature on Bob Dylan's new album Tempest!They raved about it!Masterpiece!I am so excited I need a walk!

— Edward John Curtis (@Scribe_Shadow) September 1, 2012
8/21/12 Tim Heidecker (of Tim and Eric) has already posted a 15 min long (1 min longer than Dylan's) spoof of the yet to be released title track from Tempest. Yes, seriously, you'll be sorry you listened to it.

Bob Dylan's Titanic by Tim Heidecker from Tim Heidecker on Vimeo.
P.S. I can't resist posting a few of my favorites from his earlier days: