Paul Ryan Begs for TARP (Video)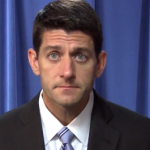 Everything a conservative needs to know about Paul Ryan in 30 seconds.
[vsw id="R4uj59SMdbM" source="youtube" width="425″ height="344″ autoplay="no"]
Scroll down for the poll.
Madame Speaker, This bill offends my principles, but I'm going to vote for this bill in order to preserve my principles, in order to preserve this free enterprise system …

Full video.
If it goes the way it could go, that means credit shuts down. Businesses can't get money to pay their payroll, to pay their employees. Students can't get student loans for next semester. People can't get car loans. Seniors may not have access to their savings. Are we standing at the edge of this abyss? Nobody knows, but maybe. It's very probable…

…this Wall Street crisis is quickly becoming a Main Street crisis. It's quickly becoming a banking crisis.
It's important for conservatives to not delude themselves that Paul Ryan is some sort of consistent fiscal conservative. Here is a short refresher on his establishment voting record:
Voted YES on TARP (2008)
Voted YES on $15B bailout for GM and Chrysler (Dec 2008)
Voted YES on $192B additional stimulus spending (Jul 2009)
Voted YES on Medicare Part D prescription drug expansion (2003)
Voted YES on $70 million for Section 8 Housing vouchers. (Jun 2006)
Voted YES on No Child Left Behind further nationalizing education (2001)
Voted YES on Head Start Act (2007)
Voted YES on making the PATRIOT Act permanent. (Dec 2005)
Voted YES on authorizing military force in Iraq (Oct 2002) (Yes, Big Government.)
So, here's a poll for the conservatives reading this post…
[poll id="7″]
Learn more.
You can help iroots.org hold the Republican Party's feet to the fire by donating to send our media team to Tampa, FL. Check out the project, here. Would you like to write for us? Send your contact info and submissions to irootsorg@gmail.com