Poll: Should Republicans Dump Romney in Tampa?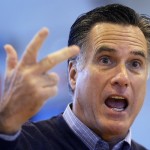 Given the recent fiasco (see video) and the inability of the Romney campaign to effectively take on Obamacare, should the Republican delegates dump Romney at the convention (it has happened before) and pick someone else? Vote below the video.
Loading ...
Loading ...

Be sure to bookmark our LIVE BLOG for the latest news this weekend and into the week from Tampa.
iRoots.org needs your help to bring our message to Tampa. Check out our mission and consider donating today.